Human rights group says accountability for atrocities is just as crucial as for security forces' crimes
Hannah Ellis-Petersen South-east Asia correspondent
Tue 22 May 2018 12.57 EDTLast modified on Tue 22 May 2018 17.00 EDT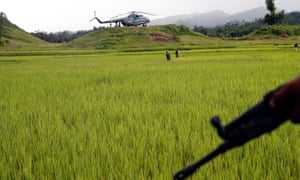 The Rohingya military group Arsa carried out deadly massacres and abductions of the Hindu community in Myanmar's Rakhine state last year, a new report by Amnesty International has revealed.
Testimony collected by Amnesty from dozens of witnesses and survivors of the attacks in Rakhine in August have detailed how up to 99 Hindu men, women and children were killed by Arsa militants armed with knives, swords and sticks. Only those who agreed to convert to Islam were spared.
According to the report, on 25 August last year, Arsa militants, aided by some local Rohingya, descended on the village of Ah Nauk Kha Maung Seik, in the northern Maungdaw township in Rakhine.
They rounded up all 69 Hindu men, women, and children, before executing 53 of them. Some who agreed to convert from Hinduism to Islam were freed. Advertisement
Raj Kumari, 18, who witnessed the attack, told Amnesty: "They slaughtered the men. We were told not to look at them. They had knives. They also had some spades and iron rods. We hid ourselves in the shrubs there and were able to see a little. My uncle, my father, my brother – they were all slaughtered."
Another witness, Formila, 20, told Amnesty that the Arsa fighters had taken the men away to kill them, then "came back with blood on their swords, and blood on their hands".
She said: "I saw men holding the heads and hair [of the women] and others were holding knives. And then they cut their throats."
The report also details other Arsa attacks on 26 August, on the outskirts of Maungdaw town, near Myo Thu Gyi village, where more Hindus and Buddhists were killed.
Arsa – the Arakan Rohingya Salvation army – are a group of trained fighters estimated to be in their hundreds. It was formed in around 2012 in reaction to long-term systematic discrimination against the Rohingya community in Rakhine, but only came to prominence in October 2016 after a series of attacks on Myanmar's security forces.
The Amnesty report, which has been verified through hundreds of witness accounts, is likely to be controversial because it backs up the assertion by Myanmar's military and government that their campaign of violence carried out in Rakhine last year was in response to Arsa's actions.
It was following attacks on the military that the security forces descended on northern Rakhine, attacking, killing and raping Rohingya people in their path. About 700,000 Rohingya fled to Bangladesh where they are now living in camps in Cox's Bazar.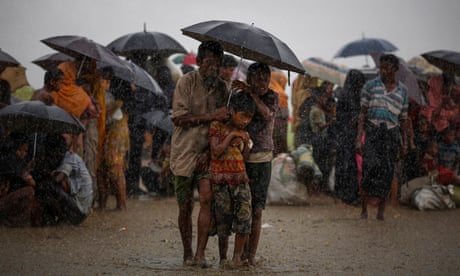 Read more
Amnesty has described the actions of Myanmar's security services as "crimes against humanity" and the UN has said they bear the "hallmarks of genocide".
Arsa's actions have not yet drawn the same international denouncements and calls for accountability.
Tirana Hassan, crisis response director at Amnesty International, said it was important to stress that justice was needed for those who suffered at the hands of the Myanmar military and Arsa. "Both must be condemned – human rights violations or abuses by one side never justify abuses or violations by the other," Hassan said.
"It's hard to ignore the sheer brutality of Arsa's actions, which have left an indelible impression on the survivors we've spoken to. Accountability for these atrocities is every bit as crucial as it is for the crimes against humanity carried out by Myanmar's security forces in northern Rakhine state."
It has taken months for the full account to come out mainly because of lack of access to northern Rakhine state. The accounts by witnesses also reveal the level of fear that victims had about telling the truth, and that eight Hindu women who fled to refugee camps in Bangladesh were pressured by Arsa to make videos claiming the Myanmar military carried out the violence against them.
Since the Rohingya were forced to flee from northern Rakhine, Arsa's presence has mainly been online, though the group has been quiet on social media since January. It is not known whether it has plans to mobilise again.
Laura Haigh, an Amnesty researcher who helped compile the report, said it had been "very difficult to get people to open up about Arsa, they are a very elusive group, and there is a fear among the community now in Bangladesh, with the informant killings last year, not to speak out and that there could be reprisals against those who do."
She added: "There is some concern among people that shedding light on the abuses means in some way that the actions of the military were justified, that it will undermine the need for accountability for the crimes against humanity, which it absolutely does not. This is just another aspect of what happened in August that needs to be investigated."
The Myanmar government did not respond to request for comment.
Tears of Jihad
Mar 3 2008 | by Bill Warner
These figures are a rough estimate of the death of non-Muslims by the political act of jihad.
Africa
Thomas Sowell [Thomas Sowell, Race and Culture, BasicBooks, 1994, p. 188] estimates that 11 million slaves were shipped across the Atlantic and 14 million were sent to the Islamic nations of North Africa and the Middle East. For every slave captured many others died. Estimates of this collateral damage vary. The renowned missionary David Livingstone estimated that for every slave who reached a plantation, five others were killed in the initial raid or died of illness and privation on the forced march.[Woman's Presbyterian Board of Missions, David Livingstone, p. 62, 1888] Those who were left behind were the very young, the weak, the sick and the old. These soon died since the main providers had been killed or enslaved. So, for 25 million slaves delivered to the market, we have an estimated death of about 120 million people. Islam ran the wholesale slave trade in Africa.
120 million Africans
Christians
The number of Christians martyred by Islam is 9 million [David B. Barrett, Todd M. Johnson, World Christian Trends AD 30-AD 2200, William Carey Library, 2001, p. 230, table 4-10] . A rough estimate by Raphael Moore in History of Asia Minor is that another 50 million died in wars by jihad. So counting the million African Christians killed in the 20th century we have:
60 million Christians
Hindus
Koenard Elst in Negationism in India gives an estimate of 80 million Hindus killed in the total jihad against India. [Koenard Elst, Negationism in India, Voice of India, New Delhi, 2002, pg. 34.] The country of India today is only half the size of ancient India, due to jihad. The mountains near India are called the Hindu Kush, meaning the "funeral pyre of the Hindus."
80 million Hindus
Buddhists
Buddhists do not keep up with the history of war. Keep in mind that in jihad only Christians and Jews were allowed to survive as dhimmis (servants to Islam) everyone else had to convert or die. Jihad killed the Buddhists in Turkey, Afghanistan, along the Silk Route, and in India. The total is roughly 10 million. [David B. Barrett, Todd M. Johnson, World Christian Trends AD 30-AD 2200, William Carey Library, 2001, p. 230, table 4-1.] 10 million Buddhists
Jews
Oddly enough there were not enough Jews killed in jihad to significantly affect the totals of the Great Annihilation. The jihad in Arabia was 100 percent effective, but the numbers were in the thousands, not millions. After that, the Jews submitted and became the dhimmis (servants and second class citizens) of Islam and did not have geographic political power.
This gives a rough estimate of 270 million killed by jihad.